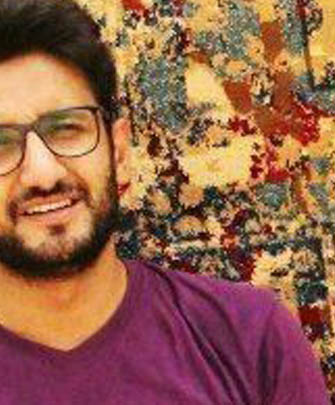 Raza Bukhari was born in Rasht, Iran. While growing up he was greatly influenced by Persian art especially Persian miniature painting and carpets. He was in awe of Persian carpets and works by the Great Mahmoud Farshchian 1, which is a house hold name in Iran. He also saw diversity of two different cultures, as his mother is an Irani and father is from Pakistan. This difference later became a key component in his works as he amalgamated these two cultures as one. As Bukhari's family shifted
1 Mahmoud Farshchian is a master of Persian painting and miniatures. He was born in the city of Isfahan in Iran, a place famed for its art and artists, and it was here where he started to learn art, painting and sculpting.
2
to Pakistan, he followed his passion for miniature paintings and came to National College of Art's (NCA). Here, he explored contemporary miniature. Mean while, he kept going to Iran and learned the art of illumination
2.
After his graduation, he went to Iran and got enrolled in prestigious Tehran University to study the Art of illustration, as miniature painting is illustration in totality. The history of the University of Tehran goes back to the days of Dar ul-Funun and the Qajar dynasty. Great poets and writers of Iran had studied there, Bukhari knew best place to grow as miniature artist is in Iran. As in Persian they say:
ھنر نزذ ایرانیان است و ب س
"Art is understood by Iranian's and that's it."
Current Raza is teaching at National College of Art's as Assistant professor while doing his Phd in studio Practice.
Academic qualification of Visual Arts:
• PHD Scholar Studio Practice, Punjab Univerversity, Lahore
• Master's in Illustration from Tehran University, Iran (2016)
• Bachelor's in Fine Arts (Miniature Painting) National College of Art's , Lahore (2014)
Selected exhibitions:
• Solo Exhibition, "Imaginarium", Full Circle Gallery, Karachi, Pakistan, 2019
• Group Exhibition, "1 by 1", Full Circle Gallery, Pakistan, 2019
• Solo Exhibition, "Flying with Stones", Full Circle Gallery, Karachi, Pakistan, 2018
• Solo Exhibition, "Facets of Fate", Taseer Art Gallery, Lahore Pakistan, 2018
• Group Exhibition, "Art Imango", Venice Biennial, 2017
• Group Exhibition, "Dare to Dream", Zulfi Gallery, Lahore, Pakistan, 2017
• Solo Exhibition, ''What's the time in your World?', Taseer Art Gallery, Pakistan, 2016
• Group Exhibition, "Creative Scripts", Ejaz Art Gallery, Lahore, Pakistan, 2015
• 2 Person Exhibition, "Zikra Yaar", Taseer Art Gallery, Lahore, Pakistan, 2015
• 3 Person Exhibition, "Dear Reality", Taseer Art Gallery, Lahore, Paklstan, 2014
• Group Exhibition, "Aspiring Artist", Taseer Art Gallery, Lahore, Pakistan, 2014
• Group Exhibition, "Miniature Artist", Ejaz Art Gallery Lahore, Pakistan, 2014
• Group Exhibition, Young Artist", Al hamrah Gallery, Lahore, Pakistan, 2014
• Group Exhibition at Pakistani Embassy, Indonesia, 2014